12 Years of Blink 182 1999-2011 ( And Beyond)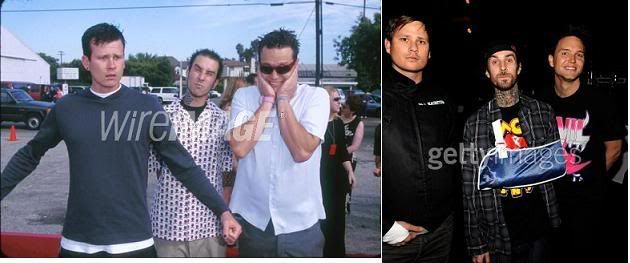 Early Years. In September 1999 at the start of my Senior year in High School my friend suggested that I listen to a song by the band Blink 182 called "What's my age again?". Me and him were in cover band together and he thought it would be a cool song to learn. I had never heard of Blink 182 but I figured I would give it a shot. I downloaded the song and after a few listens I decided that it was decent enough to learn on guitar and play in the band we had. A month later I was walking with another friend on our way to class when he told me that Blink 182 was playing up the street from me at convention hall that night and asked if I wanted to go. Since I only knew them for the one song and it was a school night, I declined. In the back of my mind I wondered if would later regret the decision; I never knew just how much regret it would be. Soon I heard Blink's single "All the small things", at first I didn't care for it but soon it became my favorite. I couldn't get over how amazing the drumming was.



Cover Band Rehearsal Note from September 25, 1999. The first time we practiced "What's my Age again".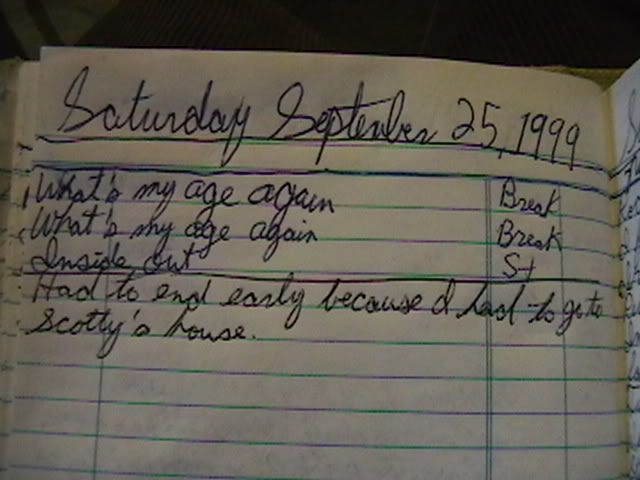 The last Blink 182 show in my area that I would miss. From 1995-1999 they played 7 shows within 3 miles of my house.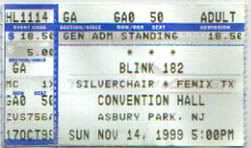 Adam's song single and Live Album



Throughout the first part of 2000, Blink 182 was just a minor interest. My friend had played Enema of the State for me and at first listen I found it to be annoying. I even said to him that all the songs sounded way too similar. Then came the release of "Adam's Song" and the video. I loved it. It was a sad version of "All the small things". I felt like the lyrics spoke to me in a certain way. The music video showed off Travis's drumming skills and I was determined to learn how to play it on drums. I was at work one day when the song came on the radio. A Co-worker of mine remarked that it was such "an artistic song" and I couldn't have agreed more. Blink toured in the summer of 2000 but for some reason missed the large venue near my area. I was disappointed.



In the Fall of 2000 I bought a bootleg video of Blink's live performances and "The Mark Tom and Travis show" album. It was my first time really seeing a live performance by them and I was hooked. It was interesting to compare drumming styles of Travis and Scott on the older songs.



Take off your pants and Jacket, Summer tour, and The bith of my Blink 182 obsession.




In early 2001, while I was dealing with surgery and weeks in the hospital due to Kidney Stones, Blink provided me with a source of enjoyment in my life. The day after I got out of the hospital I watched a Blink show recorded in mid 2000 from a VHS tape I had gotten on ebay. It featured them in a 21 and up club. It was amazing, At only 110 pounds, tubes in my back, in extreme pain, and unable to keep down solid food, I was determined to get better for the summer because of that video. Watching youtube clips from the show, it still brings me back to that moment.



Screen Cap from Show that inspired me to get better.





I read about the prospects of a new Blink album the coming summer and I couldn't wait. Finally a current band still touring and releasing albums that I was into. On her visit to check on me my grandmother bought me Cheshire Cat from a local music story. I found that I loved Blink's older stuff even more then their new stuff.



I was a big part of the MCA message boards on blink182.com and was able to download both "Rock Show" and "Stay together for the kids" in April 2001. I loved both songs. Soon "Rock Show" was on the radio and I watched the video premiere on TRL in May. The album Take off Your Pants and Jacket came out on June 12, 2001 and on what would be considered one of the better days of my life, I went to the local mall, got it, and stayed outside listening to it on my stereo. It was an AMAZING album. Blink 182 appeared on TRL later that day playing some of the new songs and doing an interview.

Mark, Tom, and Travis on TRL. June 12, 2001. I had just finished listening to Take Off your pants and Jacket and watched live as they played songs off it.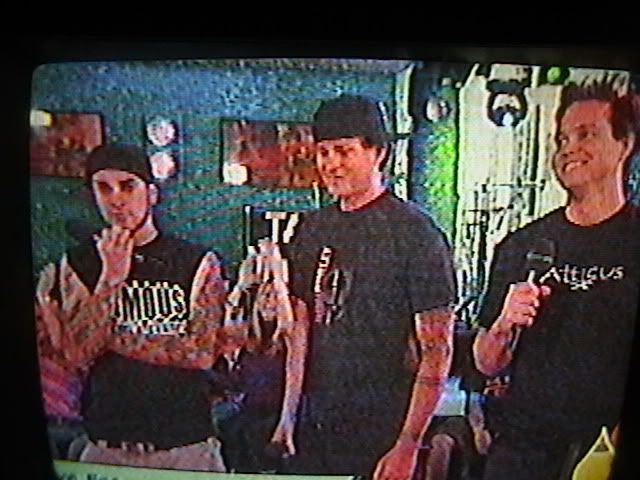 After a bad album signing in Cherry Hill, NJ where fans reported a pissed off Blink 182 and being turned away at the door, they appeared on Letterman to Play "Rock Show". It was an amazing performance. It was also around this time that my cousin made arrangements for us to see Blink live in Noblesville, Indiana after I visited him for 4th of July in Kentucky. The prospect of this was anything short of unbelievable. Here was my first current band, who's music I loved, seeing them live from only a few rows back. Today it might seem like nothing. But at the time it was unreal.



July 6, 2001 came, the concert exceeded my expectations. I have never in my life felt a rush of Adeline like that. I ripped the earplugs out my ears hoping the music would make me deaf, I screamed the lyrics until I lost my voice. I had a paper and pen in an attempt to write down the setlist but every time I tried to write down the previous song I shook so much I was unable to do it. I felt as if I was watching three legends onstage. I will never forget when the curtains opened and there they were with the big flaming FUCK sign in the background. Tom was looking at the sign and the crowd and was hysterically laughing. One of the only times I ever saw him genuinely laugh. Mark had gotten his hair buzzed and looked like he had during the Dude Ranch days. I was on Tom's side of the stage and everytime he got close the entire crowd in my section would erupt into a cheer. NFG opened and they were also amazing. They shared a bad of Doritos with people in the first few rows.



Me and My cousin in Kentucky on July 5, 2001. One day before the show.Wearing my Blink 182 shirt.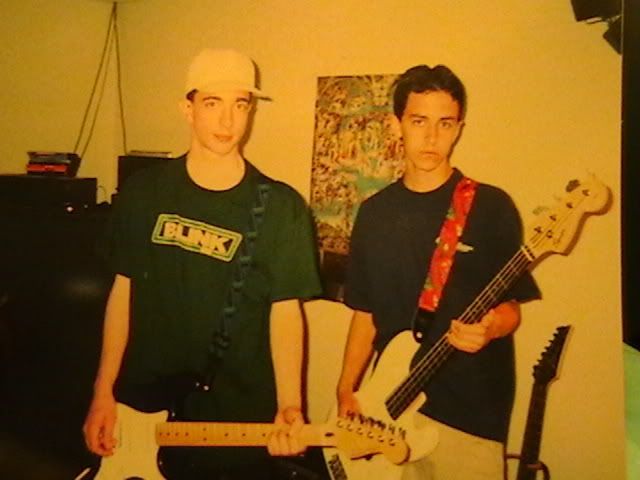 Ticket Stub from the Best Concert of my life.





From that point forward it didn't matter how old I got, or what other bands came along, or how much I outgrew Blink, or how much cynicism I may have developed, I would forever have respect for Blink 182.



I saw them again in New Jersey on July 26, 2001 IN New Jersey. They were back on TRL earlier in that day. I happened to catch it just as I was getting ready to leave for the concert. The show itself wasn't quite as exciting simply because I had just seen them and because I was sitting further away. Plus I was sitting in season holder seats where people didn't give two shits about Blink. A mother and her daughter sitting in front of us disappeared after the flaming Fuck sign came out. It was hilarious. But the highlight was of course getting to meet Travis Barker. We stood there and the guy running the booth said "We'll take care of you". I knew we were meeting him. He walked up to the tent and said "Hey" to me and signed my Blink program as a huge crowd began pushing from behind me. I was much in shock that I couldn't even get words out. Then in a move I regret I grabbed his wrist and had my arm slapped away by his huge security guard. I am still not sure why I did it, but right after I felt like some teenaged girl. It was stupid. At least I wasn't the only heterosexual guy grabbing at him though.


Travis, Mark and Tom on TRL. July 26, 2001. It would be only 2 hours later that I would meet Travis and see Blink 182 perform for the second time.



Blink Ticket Stub from July 26, 2001. Signed by Jordan Pundik from NFG.



Tour Program signed by Travis Barker.





My interest into Blink continued into the fall of 2001. September 11th made me forget about it for a time, but when I got the Urethra Chronicles 2, it made me relive that summer.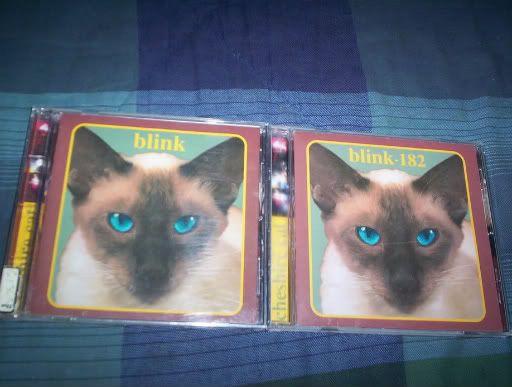 In early 2002 rumors began to spread that Blink 182 would be touring with Greenday and sure enough it February it was announced on TRL. The pop disaster tour came to New Jersey on May 24, 2002. I was there sitting about 9 rows back. I had to buy my tickets off ebay. Green Day opened and I hate to say it but they blew Blink out of the water. Something had changed with Blink 182 from the previous year. Their performance had lost heart. They didn't seem to be into it as much. A lot of reviews seemed to indicate that Blink was getting upstaged every night and it was a shame. Perhaps it had to do with the recent formation of Box Car Racer. They had done an album and played a couple shows. We later found out that Mark was really hurt by this and it eventually would take the band down.

Blink 182 and Greenday on TRL announcing the Pop Disaster Tour.




Ticket Stub from Pop Disaster Tour.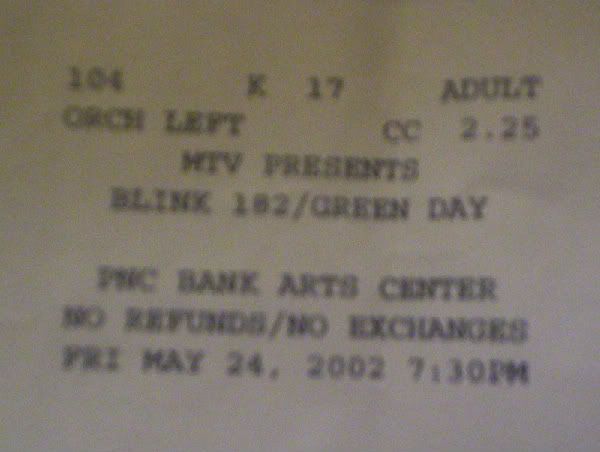 Me on the day of the show May 24, 2002 with my pathetic attempt to grow Tom Delonge's hair.





Two pictures I took with a disposable camera of Blink. I was only a few rows back by the end of the show.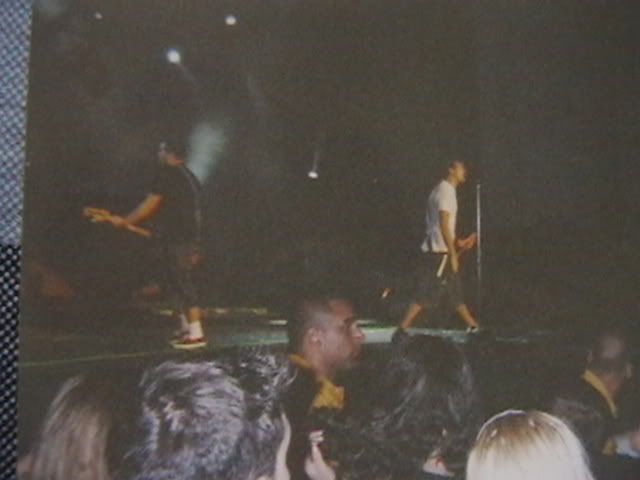 Boxcar Racer did a full tour in the fall of 2002. At first I didn't think I would be able to make it, but at the last minute my sister's friends mother agreed to take us into New York City. On Nov 2002 at Hammerstein I saw Box Car Racer from the back row of the venue. It was a good show but I was disappointed how the people in the back weren't that into it and didn't even bother to stand up. Tom and Travis put in a decent effort but it didn't capture the magic of Blink. I really liked the Box Car Racer album but it didn't translate as well live. The opening band (The Used) were annoying and their lead singer needed a shower. I think I could smell him from the back of the venue.



Box Car Racer Ticket Stub.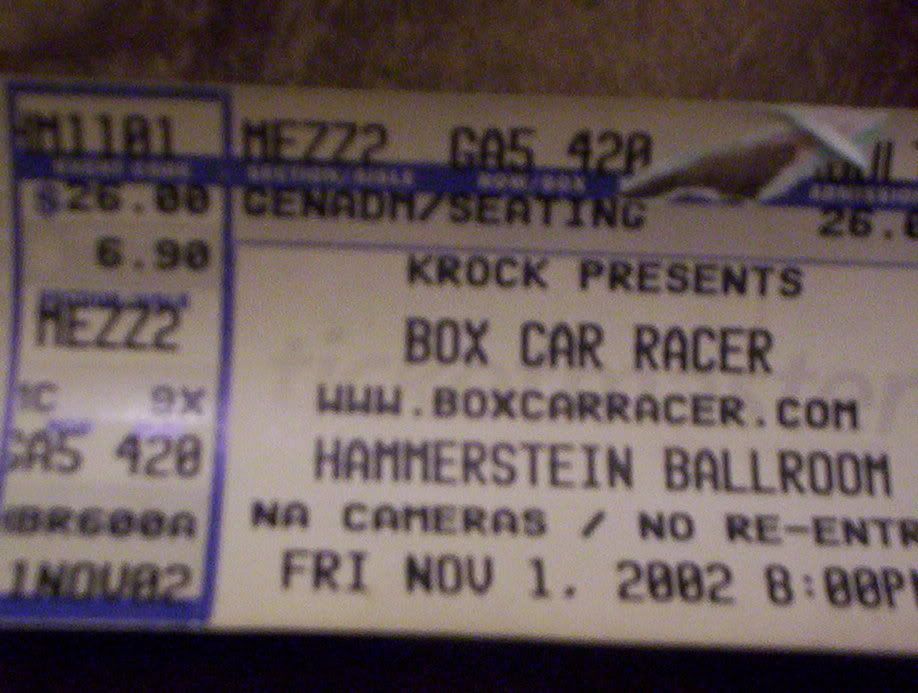 From the Fall of 2002 until the Fall of 2003 I was left pretty much Blinkless. But my interest in them didn't wane. In December of 2002 I found my way to travisbarker.com and took interest in the message board they had there. I spent countless hours discussing Blink and their future plans. Some fake tour dates were posted for Summer 2003, but never panned out. Blink played a few festivals that summer and went to Iraq, but not much else. A webcam was setup on their website and it soon became clear that they were writing a new album.



In the Spring of 2003 I saw the Transplants at Birch Hill nightclub. It was a rundown shitholethat held maybe 300 people. I got there early and met Travis outside. He was just walking around and had come back from the gym up the street. I had the opportunity to talk to him for quite sometime. Instead I couldn't get more then two words out and made a fool of myself. I had my camera with my but didn't even think to get a picture with him. The show itself was really good. Tim Armstrong and the rest of them put on an amazing performance and I actually like some Transplants songs even though they are nothing like Blink.



Transplants Ticket Stub Signed By Travis.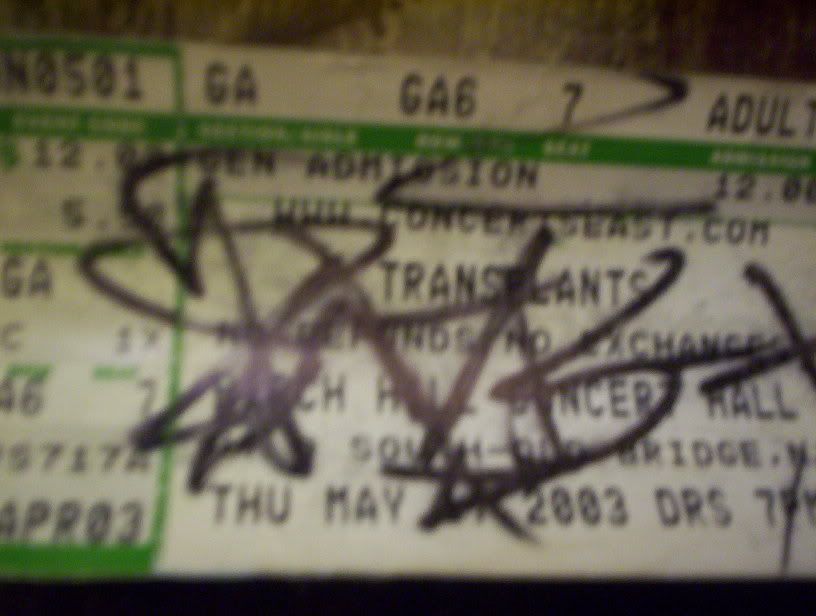 Cool picture I took of Travis as he was leaving the Venue after the show.





Untitled came out on Nov 18, 2003 and Blink 182 announced their dollar Bill tour. Somehow I managed to get tickets off ticketmaster for their NYC show at Irving Plaza. On November 9, 2003 I went up to NYC and saw them. Seeing Blink 182 in a small club was an amazing experience. Blink did a much better job then they had during the pop disaster tour in 2002. The energy was back. They played a couple new songs even though the album hadn't come out yet. Like always they ended with the song "Dammit". Both Travis and Tom hung out in the crowd but had security near them. I managed to get on their album launch which was on MTV, even though it was only for a split second. It was a few days later that Blink appeared on TRL to play songs on the rooftop.



Me near the time of the dollar bill show. High?





Ticket Stub from the Dollar bill show.





Me in the crowd at Irving Plaza.





Tom performing at Irving Plaza





Blink was back in NYC playing at some festival in December. But with tickets at $100 I decided against it.



I enjoyed Untitled, not as much as I had TOYPAJ, but it was still a great album. It was much more mature and had made me feel like I had grown up with Blink. At the age of 22, I wasn't really interested in joke songs or immature lyrics any longer.



Blink continued to tour in support of Untitled and in the Summer of 2004 they teamed up with No Doubt to do a co-headlining tour. They played two shows at the same New Jersey Venue near me. It was the only place they did this at. So on June 3rd and June 4th of 2004 I went there and saw them. Both shows were amazing and I was surprised at how much energy they had. I sat only 4 rows back with the first show and with Blink opening it was still daylight and only a few people had sat in front of me. Some girl behind me took her bra off and tossed it onstage, but Tom just stepped on it. I knew those days were over. Some dad and his 6 year old son had backstage passes. It pissed me off because I felt like there were so many people who'd have appreciated it more. For the second show I ran up to the lawn and watched Travis do his drum solo. Blink ended the show and Tom uncharacteristically came out after everyone had left with a microphone and started talking to people. Some guy got onstage and was trying to kiss him and Tom told security to "take his ass out". Security grabbed him and rushed him backstage (perhaps to see if Tom wanted to prosecute him?) It would be the last time I would see Blink onstage.



Ticket Stubs from both nights.





A picture from the second night. Back when you still had to sneak them or risk getting throw out of the venue.





Blink's tour ended in December of 2004. There was talks of doing another album in early 2005 with a world tour. Then in March 2005 after Blink cancelled out of a benefit show, it was announced that they were going on an indefinite hiatus. A lot of people took the news hard. For me it was just another topic to discuss on the message boards. Not that I wasn't upset, but I didn't take Blink 182 for granite. A new album and tour were never a guarantee. Even a show wasn't a guarantee until they actually showed up onstage.



Out of Blink came +44 and AVA. I saw them each in concert, but was never that thrilled. Plus 44 played Rock show and I thought back to my very first show with Blink where they opened with that. It truly wasn't the same. The magic was gone. I met Tom Delonge twice during his time with AVA but even that was pretty boring, especially the second time.



Meeting Tom Delonge in 2006 and 2008 would not have been possible had he left Blink, but I would have rather had them back.






In September 2008 Travis was in bad plane crash and nearly lost his life. I figured that this would get Blink 182 talking to each other again and sure enough it did. I still didn't think a reunion was likely and everyone in the band seemed to confirm that. However in early February 2009 rumors started to swirl that Blink was reforming. On February 8, 2009 Blink appeared onstage at the Grammies to announce that they were back. I was so happy to see it. Nearly 10 years after I first took interest in them I was once again ready for new album and a tour. From 17 to 27, I know now that no matter how old I get, I will always be a Blink fan.


On August 9, 2009 I saw Blink 182 at Jones Beach for the first time in 5 years. It was a great show, but I felt they needed a new album in support of the tour. Either way, it was great to have Blink 182 back. I honestly never thought I would see the day.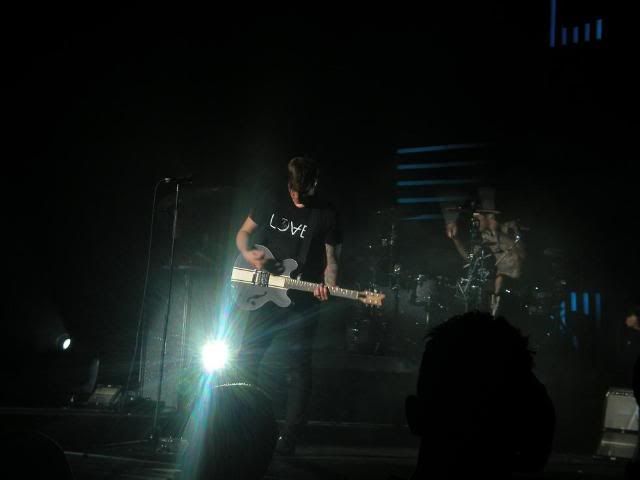 On October 3rd, 2009 I saw Blink 182 in Atlantic City. It was my first time seeing Blink 182 from the front row. I met up with Billaftermath from the Blink boards. I didn't take any pictures because cameras were not allowed inside.